FLUSHING MEADOWS – Last week, Kamora Helton (a player at LEGACY) and Andrew Weiss (LEGACY's Director of High Performance) were invited by the USTA Foundation to New York City to see the U.S. Open and experience the city. Kamora was one of only 20 players chosen by the USTAF from a pool of over 150 applicants. While visiting they got to see some amazing tennis being played by the greatest tennis players in the world. The trip also featured meeting a myriad of celebrities and powerful figures including Grammy nominated rapper Meek Mill, NYC Mayor Eric Adams and tennis legend James Blake.
In between watching matches, Kamora had the opportunity to go to City Hall and meet some influential government officials including New York City Mayor Eric Adams. "(Mayor Eric Adams) gave us a lot of insight on how he got to where he is and the importance of putting yourself out there and taking risks to make it far in life." said Kamora on meeting the Mayor. "He's a really funny guy!" It was while watching the 4th round matchup between Tommy Paul and Ben Shelton that both Kamora and Coach Andrew were able to meet James Blake. Blake, an NYC native, former top 5 ATP player, and recipient of the Arthur Ashe Humanitarian Award joined the group of players and coaches to share his experience of being an ATP player and answered some questions from the group. The USTA hooked up the group with some really great seats at the biggest matches of the US Open. "It was a great experience to see all my favorite players like Coco (Gauff) and Ben Shelton play – and we watched the matches either from a suite or courtside so it was an amazing experience" Kamora said.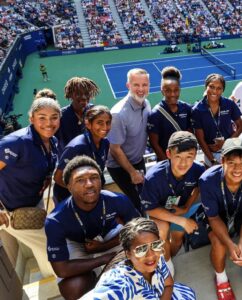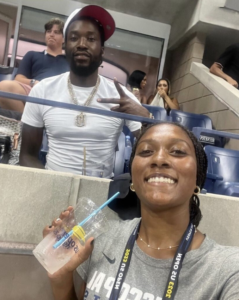 The trip was also educational for Weiss who got the chance to watch both Madison Keys and Coco Gauff practice in Arthur Ashe Stadium before their respective matches. "The biggest thing is just the dynamic between the coaches and players and how each relationship is different." Weiss said. "(Coco's) coaches were so locked in with what they wanted to do. You could feel the intensity." Gauff would go on to be the youngest American US Open winner since Serena Williams in 1999. Keys, who made it to the semifinal before losing a thrilling match to Aryna Sabalenka, had a very different approach. "Now with Madison, even though she was focused, the practice was a little bit more relaxed. A lot of smiling, a little bit of fun. So, knowing what works for your player is something I took away."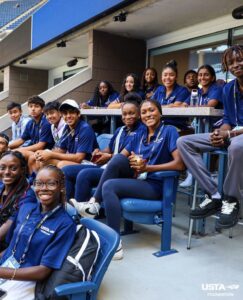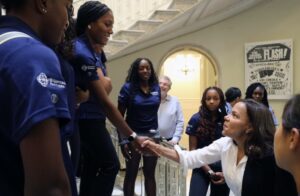 The trip was sponsored by the USTA Foundation and helps both coaches and players gain new experiences they wouldn't otherwise have. "I thought it was great for me to meet some new people and see how the USTA not only helps with tennis success, but also shows them how to be successful in life as well." said Coach Andrew. One of the days of the trip was filled helping an elderly community in New York "The kids made furniture for them, coaches and staff helped organize and throw away trash. It was a great day, It was great to give back" Andrew said regarding the experience. Overall, the trip allowed players and coaches from across the country to come together, make new memories and experience great tennis. Coach Andrew Weiss noted one of his favorite parts of the trip was connecting with other coaches saying "Most nights we all went out together for dinner, so it was nice to connect with some other coaches who are also a part of the USTA Foundation." Kamora noted one of her favorite memories from the trip was being able to watch the quarterfinal match between Frances Tiafoe and Ben Shelton courtside.